Use the GI Bill to help pay for college.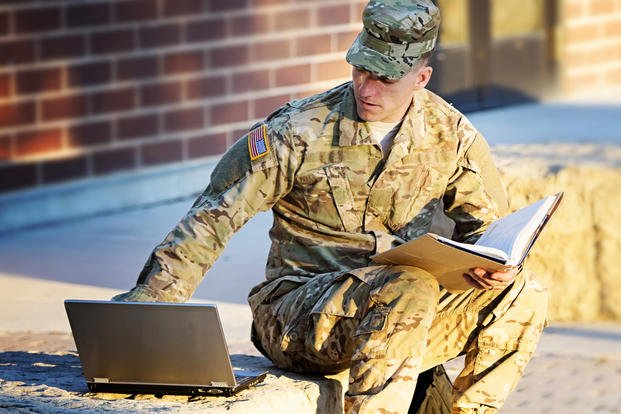 The GI Bill is one of the best benefits of being a military member. The Post-9/11 GI Bill, Montgomery GI Bill, and dependent GI Bill programs help service members, veterans, and families reach their education goals. The articles in this section provide a wealth of information designed to help you make the most of those educational benefits.
GI Bill Programs
There are several programs with the GI Bill. These programs can help you or your dependents pay for college tuition, job training, and other approved training. Find out which GI Bill program fits your needs.
The Post-9/11 GI Bill is available to take care of anything education-related. This program will cover your full tuition, school fees, housing, and your books and supplies. Another great part of this benefit is that it can be transferred to family members.
Active Duty Montgomery GI Bill
The Montgomery GI Bill for active duty helps service members and veterans with education and training costs with a monthly benefit payment.
Reserve and Guard Montgomery GI Bill   
The MGIB-SR (Montgomery GI Bill Selected Reserve) is available for Military Reserve and National Guard service members.
Veterans Readiness and Employment
The GI Bills VR&E Program helps disabled veterans with counseling services, training, education and job placement assistance.
GI Bill Programs for Dependents
GI Bill programs for dependents are available for survivors of service members who died in the line of duty or dependents of disabled veterans.
Dependent GI Bill  - The Dependent GI Bill provides education and training benefits to eligible dependents.
Fry Scholarship - The Fry Scholarship will pay full tuition to state colleges and universities for surviving spouses and eligible children of deceased service members.
How to Apply for GI Bill Benefits
1. Apply to a school. Applying for your GI Bill benefits is an easy, straightforward process. Here we'll give you the necessary steps to apply for the GI Bill and get you moving toward your degree or job training.
2. Apply with the VA. Apply to a school that is approved for VA benefits. Find schools, employers and testing organizations with the VA School Comparison Tool. Apply for the GI Bill with the VA.
For active duty, you may need approval from your chain-of-command or Education Service Officer (ESO) when applying for the GI Bill. For veterans, you may be required to provide a copy of your DD 214 Discharge Paperwork.
3. Certificate of Eligibility. If the VA determines you are eligible for the GI Bill they will send your "Certificate of Eligibility". This certificate should be taken to your school who will then enroll you and send your enrollment information to the VA. You can find your Certificate of Eligibility on the eBenefits website or have it mailed to you directly.
4. Attend Classes. Start attending classes and use your GI Bill benefits.
What Can the GI Bill Be Used For?
Is the GI Bill just for college? Not anymore. Your GI Bill can be used for many different types of education. The VA has developed programs that will help pay for college and other types of training. 
Types of Training Available With the GI Bill
College Degree Programs - GI Bill benefits are available for courses at Four Year Universities, Community Colleges and for Advanced Degree Programs

Vocational and Technical Training - If college isn't your thing, the GI Bill can be used for technical or vocational training. The VA refers to this as non-college-degree training.

Apprenticeship and On-the-Job Training -  Looking to get right to work? The VA will pay you GI Bill benefits while receiving On-the-Job training or during an Apprenticeship training program.

Licensing & Certification Reimbursement - Get reimbursed for licensing and certification tests as well as approved preparatory courses.

National Testing Programs - Your GI Bill can be used to pay for nationally approved tests. The VA will reimburse the cost of the test.

Flight Training - If you have a private pilot's license your GI Bill benefits can be used to pay for further flight training.
Work-study Programs - Looking to learn from home? The GI Bill can help pay for coursework completed at home. If you're a full-time or ¾-time student you can get paid with a VA work-study allowance.
Tuition Assistance Top-Up -  Need to make up the difference between the cost of your education and Military Tuition Assistance? The GI Bill Tuition Assistance Top-Up can be used to cover that cost.
Tutorial Assistance - If your courses aren't going as planned, the GI Bill can help pay for tutoring to get you through a difficult course.